Ramps provide more than just a boost for people with mobility issues – they benefit more people than you think! Kids can run up and down ramps while the elderly stay safe, thanks to the government-mandated guidelines that help keep everyone secure. It takes teamwork (and some good design) to protect everyone while entering or exiting any publicly accessible building or establishment.
As key recommendations and regulations for handrail construction and installation, the Americans with Disabilities Act (ADA) and Occupational Safety and Health Administration (OSHA) railing requirements may empower individuals in several ways. To assist in avoiding falls and injuries on stairs, ramps, and other elevated surfaces, handrail codes help guarantee that handrails are strong and secure. Handrails assist persons, especially those with impairments or mobility challenges, maintain their balance and stability when walking by giving a firm grasp.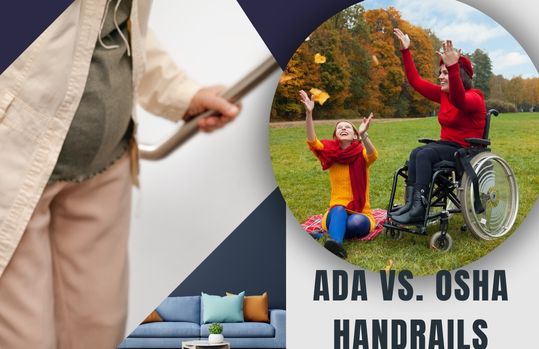 Property owners and businesses might face fines and other consequences if they fail to install handrails that meet ADA and OSHA standards. Ensuring that buildings and establishments adhere to these regulations helps guarantee that they are both convenient and safe for all persons, including those with impairments. Property value can be increased via adherence to ADA and OSHA handrail requirements, which make buildings safer and more inclusive for people with disabilities. These codes make a property more appealing to potential investors or tenants, and it may also qualify for tax breaks or other advantages.
OSHA vs. ADA Handrail Guidelines
Regarding handrails, there are two sets of regulations: OSHA (Occupational Safety and Health Administration) and the ADA (Americans with Disabilities Act).
The OSHA rules aim to ensure a safe working environment for all employees. Stair and ramp railings in the workplace must meet OSHA standards of 30 to 38 inches in height and be able to bear 200 pounds of force before being deemed unsafe. Also, they must be able to support workers to avoid falls and mishaps.
Yet, the ADA mandates accessibility, guaranteeing that all citizens have full access to public amenities regardless of physical ability. Handrails are required by the ADA rules to be installed on stairs and ramps to ensure that those with disabilities can access these places securely and uncomplicatedly. The recommended railings' specifications include heights ranging from 34 to 38 inches, a diameter of 1.25 inches to 2 inches, no sharp elements, and a nonslip finish.
OSHA and ADA regulations even call for height for handrail standards to bolster safety and accessibility rationales. Still, OSHA regulations are more concerned with protecting workers in the workplace. In contrast, ADA regulations are more concerned with ensuring that people with disabilities have equal access to public buildings and facilities.
Why Ramp Slope is Crucial
Because the pitch of a handicap ramp may significantly impact both the accessibility and safety for seniors and differently-abled persons, it is an important consideration when designing wheelchair ramps. Below are some implications for this:
Wheelchair, walker, and mobility scooter users may have trouble getting up and down an excessively steep ramp. Injury is possible if the user loses control on a steep slope. Furthermore, if the ramp's incline is excessively high, it may be challenging to stop or slow down, increasing the risk of falls and injuries. In this case, IBC guidelines call for an area of refuge in wheelchair ramps.
Some persons with impairments may find it difficult or impossible to utilize a ramp with a steep slope. Some disabled people may lack the muscular power to propel themselves up a high ramp, while others may have trouble traversing a steep slope because they struggle with balance or coordination.
As with the width of a ramp, the slope must be appropriate for the intended use. Ramps must have a maximum slope of 1:12 under the ADA, which indicates that for every inch of vertical elevation, the ramp must stretch 12 inches horizontally. A helpful ramp calculator can easily do this check to ensure the safety of the greatest number of disabled individuals who can use ramps.
A correctly sloping ramp is necessary to guarantee the security and use of elderly and handicapped users. Regardless of their physical capabilities, all people should be able to use ramps because, if they are built following accessibility laws and regulations, they may serve as a secure and easily navigable method of ingress and egress.
More than Mobility and Safety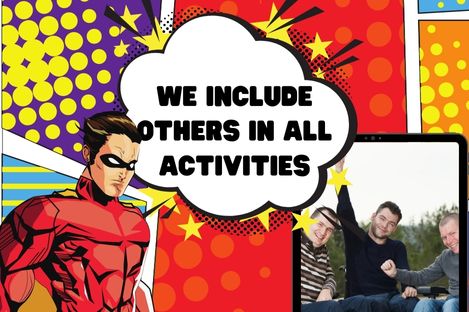 While providing safety and mobility is a goal shared by the OSHA and ADA railing criteria, their objectives and specifications differ. OSHA regulations attempt to reduce workplace accidents and safeguard employees from dangers, whereas ADA regulations are focused on increasing accessibility for people with disabilities. These distinctions should be kept in mind while planning the layout and placement of railings in public and private buildings and workplaces.
Both sets of rules must be followed for handrails to be safe and compliant with the law. Property owners and businesses may assist in making the surrounding environment for people with disabilities free of threats from crippling injuries by complying with the requirements established by OSHA and the ADA. In doing so, they will also satisfy their duties under the law. With this information in mind, you can create and implement railings that do more than just their job; they can help create a safe and welcoming space for people of all abilities.