MetalHandrails.com welcomes your ready-to-build project drawings! We can also help you with specifications and design.
Typical Applications:
Our cost-effective railings and handrails are constructed with a prefabrication approach. We utilize state-of-the-art manufacturing techniques, including robotic welding, to ensure accurate tolerances and consistent quality. Our handrails are comparable with custom solutions at a third of the cost.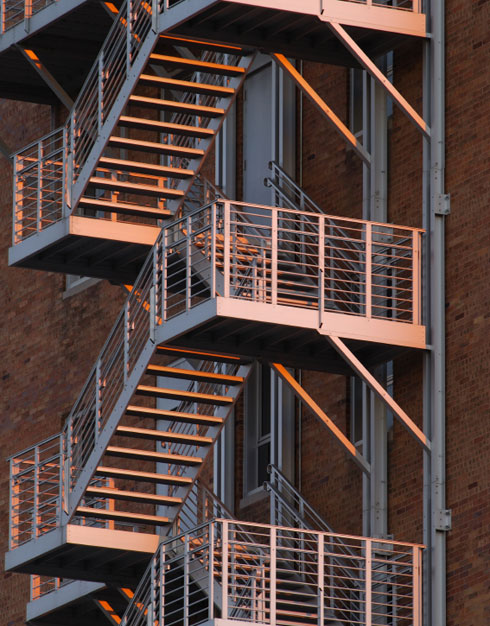 MATERIAL OPTIONS
• Steel
• 304 Stainless
• Aluminium
FINISH OPTIONS
• Galvanized -Standard
• Mill Finish
• Painted
• Powder Coated
• Aluminium
MOUNTING OPTIONS
• Angle Clip -Standard
• Stanchion Mount
• No Termination (Poured Concrete)
LARGE SCALE CUSTOM SOLUTIONS
If you have a large order we'll work with you to design and produce.
Materials of construction:
We have experience with steel, stainless steel, and aluminum railings. Our welding certification is AWS D 1.2 and 1.2. We have both TIG and MIG capabilities and we utilize robotic welding whenever possible.
Finishes
We offer the following finishes: Mill finish, yellow enamel, hot-dipped galvanized, and powder coating. Our standard, and most popular finish, is the galvanized steel construction. While we can provide painted solutions, field touch-up is often required due to shipping scuffs and/or installation blemishes. Touch-up paint can be supplied upon request.
Design Standards
Our standard design meets OSHA 1910. Our standard handrail is tube steel construction but can supply angle or pipe if required. We can provide guidance and design help and can fabricate your designs as well. Please let us know your requirements.
Contact Us for your handrail needs!